Yarmouth Vacation Rentals
Martha Murray Vacation Rentals manages over 300 Cape Cod rentals, of which we manage properties specifically in the Yarmouth area. View our inventory of South Yarmouth Rentals, or search our entire inventory of Yarmouth and Cape Cod house rentals. 
The town of Yarmouth has a total area of 28.2 square miles. Yarmouth is bordered by Cape Cod Bay to the north, Dennis to the east, Nantucket Sound to the south and Barnstable to the west. Yarmouth is approximately 75 miles southeast of Boston.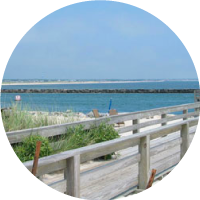 The town of Yarmouth combines three distinctive villages - West Yarmouth, Yarmouth Port and South Yarmouth. Together they create one history-rich area with iconic landmarks such as Gray's Beach boardwalk, a 19th century windmill, museums, historic sea captain's home, family- friendly attractions and romantic getaways.
The Bass River and its tributaries make up the majority of the town's border with Dennis. There are also several smaller ponds throughout the town. The Cape Cod Bay shore is marshy, with several creeks flowing into it. The town's southern shore is known for its beach, from the west jetty of the Bass River to Great Island, on the west and south side of Hyannis Harbor. The town has no state forests or wildlife management area, although there are many such natural, unprotected area in town. The town is also the site of many golf courses (Bass River Golf Club, Blue Rock Golf Course and Bayberry Hills Golf Course).
Yarmouth Beaches
The Town of Yarmouth is home to many beautiful salt water and fresh water beaches. During the summer season (May-September), our beaches are open and staffed) (life guards, gate attendants, etc.) from 8am-4pm. Most of our beaches have a bathhouse and two beaches offer a snack bar to patrons. No alcohol is allowed on any beach, parking lot or any other town property or facility at any time. Most of our beach are open to the general public, while one is open only to town taxpayers. To find out more information about the individual beaches (both salt and fresh water), please visit Town of Yarmouth website
Search Yarmouth Rentals   Search Cape Cod Rentals