Plan Your Cape Cod Beach Vacation
Martha Murray Vacation Rentals has helped create thousands of successful Cape Cod Vacations. Over the years, we've developed many long-standing Cape Cod business connections. We've also found the best resources for planning your trip to Cape Cod. On this page, you'll discover our favorite Cape Cod businesses and vacation planning information.
Listed below are some of our favorite Cape Cod Links!
Beach Sticker Sales
Make the most of your vacation on Cape Cod at the beach! Purchase your stickers online in advance to avoid the lines and hassle of going to Town Hall. Stickers can be mailed to you so that you are ready to hit the beach the moment you cross the bridge!
Please note, stickers can be purchased in the town you are vacationing in. For example, if you are staying in the town of Dennis you can purchase a beach sticker from the town of Dennis. You would then be able to visit any public beach in the town of Dennis. Some of the towns allow you to purchase your beach sticker online before you arrive, others ask you to pick them up at Town Hall.
Click the Town below to find out more information about purchasing a beach sticker for your vacation!
Linen and Beach Rentals
Skip the stress of packing your own linens and beach gear by letting the professionals bring them straight to your rental property. Cape Linen Rentals and Essential Rentals each offer full linen and beach gear rentals delivered straight to you so that you can put all your focus on enjoying this one-of-a-kind destination. Click either logo below to learn more!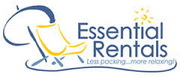 Laundry Facilities
Needing to wash some laundry during your stay? Dennisport Automatic Coin Laundry and Cranberry Laundry are great local facilities to get your clothes fresh and clean in no time! Click the images below for business hours and services available at each location.
Alternatively, you can browse our Martha Murray vacation rentals that come included with washer and dryer units using the amenities filter on the right side of the page.
Ferry Information
Is it a bird? Is it a plane? No, it's actually two ferry and cruise businesses! Steamship Authority and Hy-Line Cruises each offer exceptional scenic cruises around Cape Cod. Click the images below to check out each one's high-seas excursions today!
Things to Know About Steamship Authority:
Ferries traveling between Martha's Vineyard and Woods Hole have a 45-minute travel time, and they ferry both passengers and vehicles.
Ferries traveling between Hyannis and Nantucket offer either passengers-only high-speed option (1 hour) or more leisurely options for passengers and vehicles  (2 hours and 15 minutes).
For both ferry routes, passengers traveling without a vehicle can purchase tickets the day of travel, and those with vehicles must make an advanced reservation.
Find more information about Steamship Authority by visiting their FAQs Page.
Things to Know About Hy-Line Cruises:
All Hy-Line Cruises options are either scenic cruises or fishing ventures for passengers only. Some ferries do permit you to bring a bicycle onboard.
Hy-Line Cruises destinations include the Cape Cod Canal, Hyannis, Martha's Vineyard, and Nantucket.
Due to limited space available, it is highly recommended that you make a reservation for your trip.
Find more information about Hy-Line Cruises by visiting their FAQs Page.
 Bridge and Traffic Info
Need to find the best route to your next stop at vacation station? Click the links below for live traffic info, video feeds, and route-planning systems. The links below will send you to the most reliable navigation and traffic condition sites available in and around Cape Cod.
 
Live Traffic Info - Live updates on traffic conditions in Cape Cod and its surrounding areas. Includes clickable links to see traffic conditions along specific routes including the average MPH on those routes.