Dennis Port Vacation Rentals
Located on the Southern Shores of Cape Cod, Dennis Port is a hub for coastal relaxation. Choose from a wide array of oceanfront Dennis Port vacation rentals that overlook the Nantucket Sound or properties that are a short walk away from many of the stunning beaches.
History
The area of Dennis and Dennis Port were first settled in the late 1600s. The village of Dennis Port is nestled in the southeast corner of Dennis. The village was originally named Crocker's Nest and was renamed "Dennis Port" by Thomas Howes in 1862. Throughout the early 1800s, agriculture drove the economy while after the Revolutionary War, fishing became the main staple of economic activity. In more modern times, tourism has become a driving force as visitors come to enjoy the stunning beaches, warm waters, and charm of the Nantucket Sound. Today, Dennis Port is a beach destination that offers plenty of Cape Cod charm and has vistors returning again and again. 
Dennis Port Beaches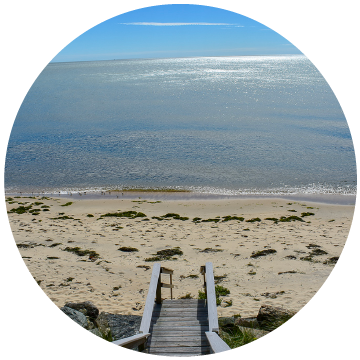 Dennis Port is home to a multitiude of stunning beaches. Some of the most popular include Sea Street, Glendron Road Beach, Hagis Beach, and more. West Dennis Beach is another nearby beach that also features a playground for little ones and is a popular spot for windsurfing and kite flying. Pack a beach bag complete with all of your essentials and head down to the sandy shore to explore these Dennis Port beaches for yourself! 
Search Dennis Port Vacation Rentals    Search Cape Cod Rentals